Meet our Guidance Counsellor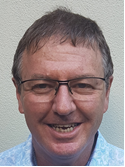 Mr Chris Caruana
MCoun, Dip Tchg, MNZAC
Chris Caruana is the guidance counsellor at Rosmini College. Chris has a Masters degree in counselling and has taught counselling skills at university level. Chris comes with a wealth of experience from working in a variety of schools, as well as NGOs, private institutions and private practice.
As an old boy of Saint Peters college, Chris is very familiar with the values and expectations of Rosmini. He is a parent to two daughters, both of whom are at university, and is well rehearsed in the joys and tribulations of being a parent.
Chris is dedicated towards making making positive contributions towards the emotional development and sense of personal wellbeing of all students at Rosmini.
Chris is very receptive to hearing from students and parents who have issues or concerns, and encourages you to contact him. Counselling conversations are private and confidential.
Please email Mr Caruana to make an appointment: [email protected]